A Barrier Island - Bald Head Island
The What's It Like Where You Live? team visited Bald Head Island to do some explorations and shoot some videos. Along the way, they wrote this report:
Barrier Islands

Bald Head Island is a barrier island. To understand life on Bald Head Island, you must understand what is meant by barrier islands.
Barrier islands are separated from the mainland by bodies of water that vary in size, from small estuaries to huge bays and sounds.
Most of the barrier islands in the United States are found off the coast of North Carolina, South Carolina, and Florida.
A barrier island serves as a buffer or "barrier" between the coast and the sea. That means that they must experience not only tides, winds, and waves, but big storms and hurricanes, too.
These forces cause barrier islands to have a constant changing environment. The islands erode in one area, but build up in another.
On barrier islands you will find several distinct zones. Each zone has special plant and animals that have adapted to the unique conditions.




Beaches
Beaches on barrier islands are sandy.

Dunes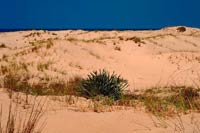 Sand dunes are big mounds of sand behind ocean beaches. The dunes closest to the ocean are called primary dunes. The dunes behind the primary dunes are called secondary dunes. Dunes can occur in places other than barrier islands. Dunes protect barrier islands from wind, waves, and storms, just like barrier islands protect the mainland from the very same forces!
Sea Oats are one of the few plants that will grow on primary dunes. The roots of sea oats hold the sand in place. The leaves stop and collect blowing sand.
Without sea oats, dunes would be destroyed by storms, floods and wind. The name comes from the seeds on the top of the plant, which look very much like oats!
Beach grass, like sea oats, grows on Bald Head Island. It looks like clumps of green grass and can be as high as three feet tall. It has long, thin, green leaves. When Beach Grass is planted on a dune, grains of sand collect around the plant as sand blows over the beach. The sand that gathers at the base of the plants stimulates more plant growth. The plant growth also stabilizes the sand dune and helps keep it from blowing away.
Maritime Forests
Trees are bent by the wind and salt spray and have a distinctive wedge shape. They have adapted to the harsh environment and have become salt-tolerant to survive.
Trees and bushes you might find on Bald Head Island include live oak, loblolly pine, slash pine, yaupon holly, and red cedar.
| | | |
| --- | --- | --- |
| Disclaimer | Copyright © 2002 Missouri Botanical Garden | |